Changing the face of colorectal cancer
By Pam Gwaltney, RN, OCN, GI cancer nurse navigator

Looking for a resource through treatment?
Call our cancer patient navigators:

704-384-5373
As a GI cancer nurse navigator, I initially had the mindset that all the patients I would see were going to be over the age of 60. I have worked in oncology for more than 25 years and have seen many changes in that arena. Nothing I had seen prepared me for the population of younger patients affected by colorectal cancer.
I look back to when I first started in my navigator role and one of the first patients I met with stage IV colorectal cancer was a 33-year-old woman with three young daughters. I was sure I was in the wrong room, had the wrong patient. The truth is, colorectal cancer rates are rising in adults under the age of 50. Even so, screening for such a cancer doesn't begin until age 50. Those who do get screened early have certain risk factors, such as family history, predisposing genetic condition, or problems with anemia, change in bowel habits, bloody stool or bloating.
The good news is that, overall, rates of colorectal cancer have declined, thanks to early detection and screening. However, there's still a lot of work that needs to be done.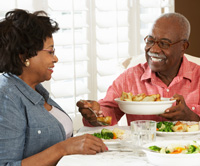 Colorectal cancer is the third most commonly diagnosed cancer and the second leading cause of cancer death in both men and women. Symptoms include bleeding from the rectum, bloody stool, changes in bowel habits, cramping or bloating, diarrhea or constipation that is new and lasts for more than a few days, and unintentional weight loss.
By now we all know that exercising, being physically fit and eating a healthy diet full of fruits, vegetables and whole grains and low in red or processed meat will help in the prevention process. These facts are worth repeating in any article. What we don't often talk about are the different faces of colorectal cancer. Imagine someone young, just starting a family or maybe getting married. They may or may not have enough vacation at their new job to take off for surgery, let alone bi-weekly chemotherapy, and then the side effects that will keep them out of work another day or two. On the outside they look great because their treatment does not make them lose their hair, but there may not be time for true rest because their extended family lives out of town and their everyday chores need to be taken care of. On top of their busy schedule they now need to fit in doctor visits, treatments, CT scans and blood tests. But in spite of the obstacles faced they draw from inner strength the will to fight, their strength in knowledge and hope for a cure.

The young colorectal patient (age 30 to 50) has become a new face to colorectal cancer. These are the faces of moms, successful businessmen, healthcare workers, even nurses, and despite their varying backgrounds they have one thing in common: a colorectal cancer diagnosis was just about the last thing on their mind when it slapped them in the face.
My entire nursing career has been driven by the desire to be an advocate for the cancer patient, to strive to be a better caregiver and to have hope in a cure. Everyday I am humbled by the faith and strength of the patients I see. The cancer patient enters a world of serious illness with acceptance, grace, hope and courage, and by their side are their friends and family members. My hope is that one day I have to choose another career because there is no cancer.
If you or a loved one are facing a colorectal cancer diagnosis, we can help. From getting a second opinion, to navigating you through the treatment journey, maintaining your weight or joining a support group, our dedicated colorectal cancer team is dedicated to meeting your needs.

Learn more about our colorectal cancer services