The care you need – when and where you need it

Check out a few of the ways we are customizing healthcare to fit your needs and bringing you the care you need — when and where you need it:
Online scheduling
Busy? Don't have time to call your doctor? Making time for your health is easier than you think with Novant Health's new online scheduling feature. New patients or Novant Health patients without a MyChart account may now directly schedule an appointment online with a primary care provider – when it's convenient for you. To schedule your appointment with a primary care provider who specializes in family medicine, adult medicine or pediatrics and is accepting new patients, visit MyNovant.org and choose "Schedule an Appointment." You may search for providers by specialty, last name or ZIP code.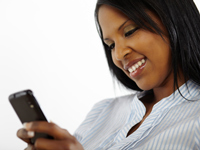 While you are on MyNovant.org, you may also:
Request an appointment with a specialist by choosing "Request an Appointment"
Pre-register for your appointment
Pay your bill online
Access health information through our extensive health resource library
MyChart
Your health is important to you around the clock — not just during office hours. That's why Novant Health offers MyChart, empowering you to connect to your health — at home, on the road, at work or on your phone. Simple and convenient, MyChart is a free online tool that allows you to remotely and securely:
Review personalized health information – Instantly access your medications, immunizations, allergies and medical history.
Email and send photos to your care team – Communicating with your physician's office is as easy as sending an email but with built-in protections for your sensitive information.
Request prescription renewals – MyChart makes it easier than ever to refill your medications with a few simple clicks.
Manage your appointments online – Schedule or cancel a clinic visit and view details of your past and upcoming appointments online.
View laboratory test results – MyChart allows you to receive test results online – no waiting for a phone call or letter.
Access your family's records – Link your family's accounts to yours for convenient access to appointments, immunization records, growth charts and more.
Learn about your health – Access health information through our health resource library.
To register for a MyChart account, please visit or call your Novant Health clinic, or visit MyNovant.org and request an activation code. To download the free MyChart app, search for "MyChart" in your smart phone's app store or visit MyNovant.org.
Download our mobile app
Need to locate care on the go? Novant Health is pleased to introduce our new app for both Apple and Android smartphones. With this app, you can check emergency room wait times, find a physician, locate the urgent care nearest to your location or call our 24-hour Care Now line. To download the app, search for Novant Health on your Android device or visit the App Store on your Apple device.